Promotion of the project at the conference of XericGrasslands' project
On 12th of December 2013, in Cedynia conference summarizing the actions and results of the project "Protection of grasslands in Poland – theory and practice", was held. The project is run by the Naturalists' Club since 2010.

In an exchange of knowledge about the projects, the LIFE project "Protection od valuable natural non-forest habitats typical of the Orle Gniazda Landscape Park" was presented. In a frame of this project activities related to the protection of grasslands are also carried out.
Taking the opportunity the project's staff presented the goals, objectives and results already achieved by the AlkFens project. During the discussion after the presentations  the main topics were financial aspects and issues related to including notice in land registry records of definitive assignment of the purchased land to nature conservation purposes beyond the end of the project.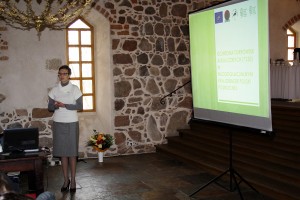 This text is also available in: PL